Unlike Your Mom's Pressure Cooker

from 25 Years Ago

,
UL-Listed Pressure Cookers are Completely Safe
New generation pressure cookers have considerably more safety features than pressure cookers of your mother's and grandmother's era which usually had none. You don't have to worry about safety with a well designed modern pressure cooker such as the Fagor Duo.
UL-Listed New Generation Pressure Cookers are Safe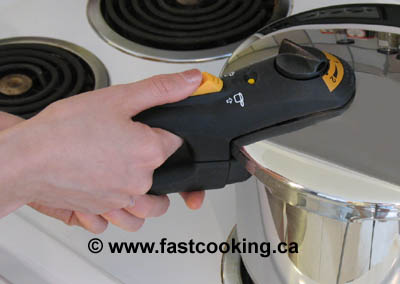 Locking the lid on a Fagor Duo. It is not possible to open the lid until all the pressure has been released.
You may have heard stories from your childhood or stories from your parents or relatives about pressure cookers. These stories usually have their origin from decades ago. In the U.S. and Canada, pressure cookers were very popular in the 1940s and 1950s because of their speed and convenience. But due to the poor design of the pressure cookers of that period, the pressure cooker's contents would sometimes escape the pressure cooker when the contents shouldn't have (to put it nicely).
Safety Features of Modern Pressure Cookers
Designs have advanced considerably since even the 1980s.
New generation pressure cookers, such as the Fagor Duo, that are UL-listed (by Underwriters Laboratories) have to have certain safety features in order to obtain the UL listing. One of many myths about pressure cookers is that pressure cookers "blow up". Even in the 1940s and 1950s, this wasn't actually the case. Two other conditions were the most likely reasons the contents escaped.
The first is the pressure cooker lid was accidently opened while under pressure. It is not possible to open the lid of a modern UL-listed pressure cooker while it is still under pressure. The Fagor Duo has a smart interlock system that prevents the lid from being opened while the pressure cooker is pressurized. In addition, a yellow visual pressure indicator shows you when the pressure has been released, so you know when you can open the lid safely. Old Presto pressure cookers, for example, had no such interlock that prevented accidental lid openings.
The second condition that occurred with old pressure cookers was that the vent tube that the "jiggler valve" sat on would sometimes get clogged with food, and the pressure would increase to the point where it would blow out the over-pressure plug. The Fagor Duo has a secondary spring-type over-pressure valve and so doesn't use an over-pressure plug. In addition, there is a gasket release slot for the worse case scenario of extreme over heating and over pressurization. The gasket will be pushed away from this open release slot in the rim of the lid; allowing the pressure to escape safely in a downward direction.
In total, each Fagor Duo new generation pressure cooker has quadruple safety mechanisms: a spring-operated pressure control valve, a safety lock on the handle that prevents accidental opening while under pressure, plus two independent over-pressure release mechanisms. For comparison, this pressure cooker has more pressure safety features than your hot water tank has, and nearly every home has a pressurized hot water tank.
These features all contribute to making a Fagor new generation pressure cooker very safe and extremely easy to use.
Related information about pressure cookers:

other ways that new pressure cookers are different from mom's old pressure cooker

what to look for when selecting a pressure cooker

history of the pressure cooker
Learn More About Pressure Cookers
More Time for You
---
New Generation
Stainless Steel Pressure Cookers

Quiet, easy-to-use, European-designed

Reasonably Priced

Fagor is Available at

Food Fast, Without the Guilt.TM
---