Pressure-Cooking is the Fastest Way to Cook
Make Delicious Meals Two to Ten Times Faster
Get pressure cooker recipes at your fingertips:
Pressure Cooker Recipes
Select the pressure cooker recipe category on the right for our selection of free pressure cooker recipes. Tired of searching for recipes? We have the widest selection of pressure cooker cookbooks available anywhere.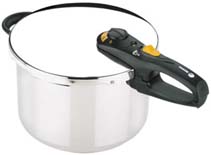 What's the Fastest
Pressure Cooker?
Pressure cooker recipes are the fastest recipes to prepare. Make a light or hearty meal: beef stew, chicken soup, easy pot roast, sweet-sour spareribs or vegetarian fare such as risotto, chickpea and spinach soup, hummus or fancy potatoes.
Do you have a pressure cooker recipe you'd like to share with others? E-mail us your favorite pressure cooker recipe or recipes using the address at the bottom of the page and we'll post the recipes on our website.
More Time for You
---
New Generation
Stainless Steel Pressure Cookers

Quiet, easy-to-use, European-designed

Reasonably Priced

Fagor is Available at

Food Fast, Without the Guilt.TM
---
Looking for recipes for your Magefesa pressure cooker that has the poor instruction manual and few recipes; or your old Presto pressure cooker that should have been upgraded to a new generation pressure cooker years ago; or your shiny super expensive Kuhn Rikon; or low pressure, and therefore slow, T-Fal, Lagostina or WMF; or the pressure cooker that has the best combination of features and price, a Fagor? This is the place to find recipes for your pressure cooker. We also have lots of information about pressure-cooking in general and have the widest selection of pressure cooker recipe books anywhere.