Health Benefits of Pressure-Cooking
Pressure-cooking: A Delicious and Convenient Alternative to Eating Out
Don't have time to spend hours in the kitchen? Who does these days?!
Our busy lives seem to hardly ever allow us to have a sit-down meal, much less the time to cook a delicious (and healthy) dish. Wouldn't it be great to have the time. Fortunately, there is a long overlooked tool that can help.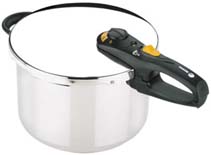 Healthy Cooking
Cooking with a pressure cooker is TWO to TEN times faster than other cooking methods. A pressure cooker is a highly versatile kitchen utensil that can be used to cook a variety of delicious and healthy meals quickly and easily. A Fagor pressure cooker gives you the time to cook delicious homemade meals fast.
Due to our time-strapped schedules, many of us often resort to prepared meals from the grocery store, fast food drive-through windows or pizza delivery. We all know that these foods aren't healthy, are high in calories, saturated fats and salt. They add to our waistlines as well as contributing to high cholesterol and high blood pressure. We eat these foods anyway, because they taste good and are convenient. There is a practical alternative though: use a pressure cooker.
We also often buy processed foods (frozen or otherwise) available at the grocery store, attracted by their convenience and sometimes by the belief that these foods are healthy because the manufacturers claim they are. However, these processed foods are packaged in plastic that leaches chemicals, and the foods are often full of preservatives and additives in order to make them artificially taste good.
When using a pressure cooker, you get to control what you eat. Food Fast, Without the Guilt.TM
The Fagor Duo is made from stainless steel, not aluminum, and does not have a non-stick coating. Perfluoroctanoic acid (PFOA) which is used to manufacture non-stick coatings on cookware has been associated with serious long-term health problems. It is probably wise to use cookware that does not have a non-stick coating.
Learn More About Pressure Cookers
More Time for You
---
New Generation
Stainless Steel Pressure Cookers

Quiet, easy-to-use, European-designed

Reasonably Priced

Fagor is Available at

Food Fast, Without the Guilt.TM
---