New Generation Pressure Cookers
Compare Mom's old pressure cooker
to a new generation pressure cooker.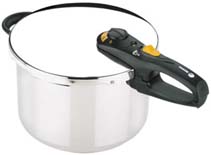 Fagor New Technology
The technology of pressure cookers has advanced greatly since the 1940s and 1950s when pressure cookers were first widely used. Since even the 1980s, the technology used on top quality models has improved significantly. Improved materials, designs, pressure regulators and safety features have made pressure cookers the ideal cooking tool for quickly preparing meals.
What is a New Generation Pressure Cooker?
A new generation (sometimes called a second generation) pressure cooker differs from first generation pressure cookers that were introduced during the 1940s in many ways.

history of the pressure cooker
Easy to use controls on a modern Fagor pressure cooker.
Unlike first generation pressure cookers that your parents or grandparents may have used (and are still being manufactured and sold today), a Fagor Duo new generation pressure cooker has a simple-to-use spring-type pressure selector and pressure regulator. First generation pressure cookers use a noisy "jiggler valve" (also called a "jigger valve" or "jiggle top") that cause these old-style pressure cookers to make an unnerving sound while cooking.
A pressure regulator controls the amount of pressure inside the pressure cooker. The amount of pressure inside the pressure cooker greatly affects the cooking time (see our pressure cooker time table).
Simply by turning the pressure selector dial, one of two pressure settings (high or low) can be used to cook your delicious meal. This makes a stainless steel Fagor Duo very easy to use on a daily basis. The dial eliminates the noisy "jiggler valve" found on old-style pressure cookers like the Presto. The "jiggler valve" is the weight that rocks back and forth and is found on top of the "vent tube" (the hole in the lid). The vent tube easily clogs on first generation pressure cookers like the aluminum Presto used by your mother or grandmother.
DUAL Pressure: Just Turn the Dial
on the Fagor Duo

Going Clockwise: Pressure Release Setting,
Low Pressure Setting, High Pressure Setting

Fagor Duo Pressure Cooker
Because it does not have a "jiggler valve", releasing the pressure is very easy with a Fagor Duo; just turn the dial to the pressure release position and the pressure is released—it's that simple. The low pressure setting available on a Fagor Duo new generation pressure cooker allows you to easily cook delicate foods such as fish or spinach.
Old first generation pressure cookers would allow you to open the lid before the pressure had been released. The results of this were often big messes or worse. This is not possible with a UL-listed Fagor Duo that meets UL safety standards. With the integrated safety system on the Fagor Duo's lid, it is not possible to open the lid unless all the pressure inside the pressure cooker has been released.
A few features of the Fagor Duo:
| | |
| --- | --- |
| | The DUAL pressure valve on a Fagor Duo pressure cooker accommodates all types of recipes. Simply turn the dial to either Level 1 (Low 8 psi) or Level 2 (High 15 psi) pressure. |
| | The pressure is controlled by a spring valve rather than a noisy old-style weight system. |
| | A yellow visual indicator lets you know when all the pressure has been released. |
| | Includes a 10-year warranty from the manufacturer (Fagor). Replacement parts such as handles and gaskets are available. |
Speed differences between pressure cookers

Learn More About Pressure Cookers
More Time for You
---
New Generation
Stainless Steel Pressure Cookers

Quiet, easy-to-use, European-designed

Reasonably Priced

Fagor is Available at

Food Fast, Without the Guilt.TM
---