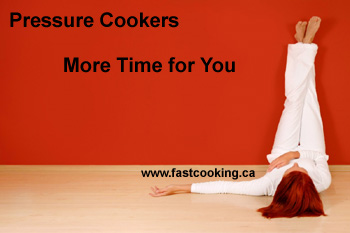 New Generation Stainless Steel
Fagor Pressure Cookers
Available at Fastcooking.ca
The History of the Pressure Cooker
The invention of the pressure cooker is credited to Denis Papin, a French physicist. Perhaps this partially explains why nearly every household in France has a pressure cooker. Papin demonstrated his "steam digestor" in May of 1679 in London, England to the Royal Society by cooking bones with it. He "found that food cooked rapidly, requiring less fuel, and that even old meat became tender, with much nourishment extracted from the softened bones, advantages which he considered would be of considerable value..." [1]
The term pressure cooker first appeared in print in 1915 in the Journal of Home Economics [2]. The first commercial saucepan-style pressure cooker debuted in the United States at the New York World's Fair in 1939. This aluminum pressure cooker was made by the National Pressure Cooker Company which, since 1953, has been called National Presto Industries [3]. Presto's designs haven't changed significantly since that time. Development of the modern new generation pressure cooker was continued by European pressure cooker manufacturers after World War II to the present.
References:
1. Anita McConnell, 'Papin, Denis (1647-1712?)', Oxford Dictionary of National Biography, Oxford University Press, 2004.

2. The Oxford English Dictionary, Second Edition, Clarendon Press, 1989.

3. National Presto Industries, Inc. website.
Learn More About Pressure Cookers
More Time for You
---
New Generation
Stainless Steel Pressure Cookers

Quiet, easy-to-use, European-designed

Reasonably Priced

Fagor is Available at

Food Fast, Without the Guilt.TM
---