Fagor Futuro Pressure Cooker
A space saving pressure cooker with short handles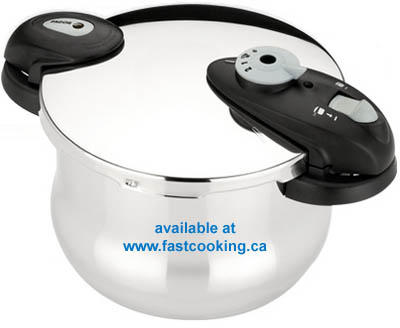 The Fagor Futuro Pressure Cooker Package
A 4 litre/quart, 6 litre/quart (the most popular size) or 9.5 litre/10 quart capacity, 15 psi DUAL pressure, European-designed, stylish and safe new generation pressure cooker that is extremely easy to use. Made of 18/10 stainless steel with a mirror finish, not aluminum, the Fagor Futuro pressure cooker is strong, high-quality cookware. One of the fastest pressure cookers on the market.
what separates a cheap pressure cooker from a quality one?
Stainless steel steamer basket with trivet (stand)
Instruction manual
Full colour "Tastefully Under Pressure" cookbook
10-year warranty from the manufacturer (Fagor)
Fagor Futuro Pressure Cooker Features
Made in Spain not China.
Futuro pressure cooker operates at 15 pounds (psi) pressure on its High pressure setting.
Dual pressure with High and Low pressure settings.
Constructed of heavy gauge, polished 18/10 stainless steel for worry free pressure-cooking. Does not have a non-stick coating. Perfluoroctanoic acid (PFOA) which is used to manufacture non-stick coatings on cookware has been associated with serious long-term health problems.
Short side handles that save space.
No-hassle self locking handle (photo).
Quadruple safety mechanisms: a spring-operated pressure control valve, a safety lock on the handle that prevents accidental opening while under pressure, plus two independent over-pressure release mechanisms.
UL-Listed pressure cooker for safety.
Safe on all domestic cooking surfaces: electric, gas, halogen, ceramic and induction.
Visual pressure indicator shows when the pressure cooker is under pressure.
Tri-ply impact bonded and encapsulated diffuser base. This ensures excellent heat conductivity for rapid, even pressure-cooking.
The stainless steel steamer basket doubles as a food grater.
Price: The Best Deal
Fagor Futuro Pressure Cooker Pricing
FREE shipping to all provinces and lower 48 states
Store
Model
Maximum Cooking Pressure
Price
(CAD/USD)
Stainless Steel Fagor Futuro (4 litre)
15 psi

$157.00




Sale:

$135.99
Stainless Steel Fagor Futuro (6 litre)
15 psi

$177.00




Sale:

$155.99
Stainless Steel Fagor Futuro (9.5 litre)
15 psi

$212.00




Sale:

$184.99
S/S Fagor Futuro Set (4 & 6 litre) photo
15 psi

$246.00




Sale:

$219.99
The Fagor Futuro Set includes a 6 litre Futuro, 4 litre Futuro, one pressure lid that fits both sizes, one tempered glass lid, steamer basket, trivet, user's manual and recipe book.

Learn More About Pressure Cookers
---